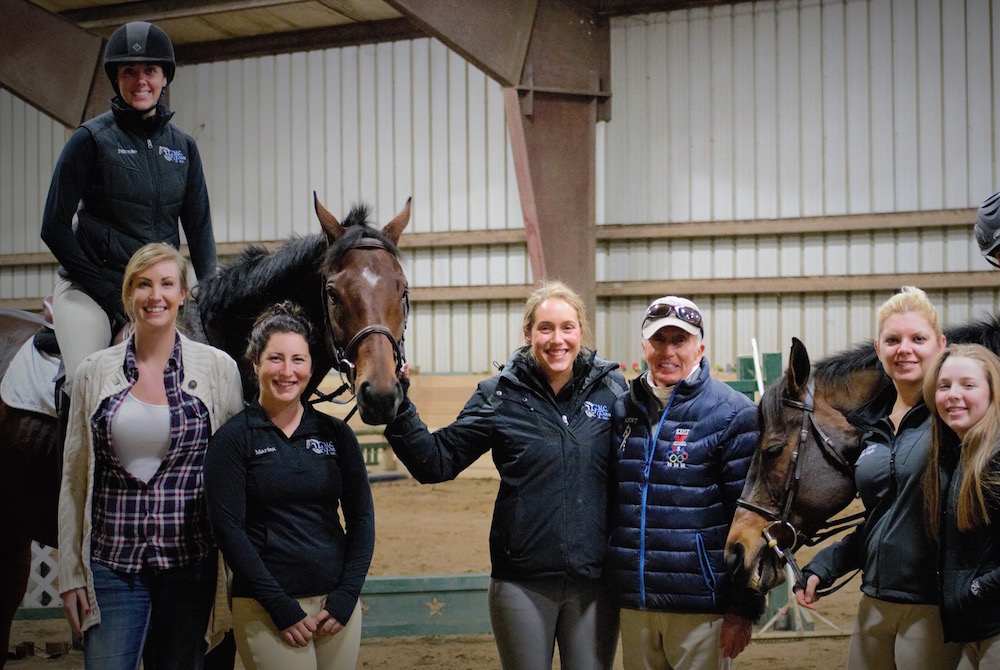 Ivan (Ivy League)
16.1 Chestnut Appendix Gelding. 2'6″ seasoned Eq/Hunter Jumper horse. This 22 year YOUNG gelding is a super star! He is one of the most patient and quiet horses out there. Wether he is teaching you to jump, or you know what you're doing, he is a blast. Ivan has an auto lead change, massive stride, and never says "no" to a jump. Since Ivan is on the older side this horse is only available for lessons or for a 2'3″ and under lease.
---
HD (High Definition)
2'6″ seasoned Eq/Hunter Jumper horse. HD is a 15.3 hand, 18 year old, Bay OTTB gelding. This horse may have some pep to his step, but he is extremely safe and solid citizen. HD has miles in all three rings. He has been to M&S Finals as well as been shown locally around Connecticut. He has a wonderful auto lead change and is capable of jumping 2'6″ and under. This sweet boy is available for leasing as well as lessons.
---
Peyton (Spotlight)
2'6″ seasoned Eq/Hunter Jumper horse. Peyton has a heart of gold standing 15.2 Hands. He is 10 years old and is a registered paint horse. Peyton has been used in our lesson program for 2 years now and is great at teaching the younger kids the basics or getting a rider into shape and back into the show ring. Peyton has competed in the 2'6″ in all three rings and has participated in several Hunter Derbies! He has nice sized stride, a lovely lead change, and is an honest horse down to the jumps. Peyton is currently leased, but is also used in our lesson program.
---
Evie (GMC's Believe)
2'6″ seasoned Eq/Hunter Jumper horse. Evie is an elegant 15.3 hand, Appendix Bay mare who is 14 years old. She has won several awards in the 2'6″ with both adult & child riders. This mare is as smooth as glass and is a pleasure to ride at home as well as off the farm. She has a lovely auto lead change, is honest down to the fences, and is good for any timid rider learning the ropes. Evie is available for full or half lease and is also used in our lesson program.
---
Tank
Tank is the ultimate saint of the GMC lesson horse string. Standing at 14.2 hands tall (and probably about that wide), Tank is an 20 year old Appaloosa gelding. Tank gets his name for his big body and ability to carry all kinds of riders. Tanks whole life has been dedicated to teaching beginners the ropes. This pony is as sweet as they come and he is available for half lease and is used in the lesson program.
---
Phoenix (Perfect Memory)
Phoenix is a 16.2 & 1/2 coming 7 WB/TB cross. He has done a little of everything, from the pleasures to the jumpers. He is a very talented and handsome horse with a huge stride. Nice lead change and a big jump. He is capable of jumping 3'6″ and has competed in the 3′. To the right person he is available for half lease. Phoenix is used occasionally for the lesson program.